As you may know, Broadway Lodge has been operating for 46 years and in that time many people have come and gone. It's not uncommon for us to unearth photos, documents and treasures that have been hiding away in one of the hundreds of nooks and crannies in the building. It's always a wonderful surprise to find an item from decades gone by and to feel some nostalgia.
This weekend Charma, our Counsellor Coordinator, found a staff photo from 1986 (below), an era remembered for some, let's say, 'iconic' hairstyles which may feature in this! Also featured is the Broadway Lodge building which remains largely the same although the roof was admittedly fresher than it looks today.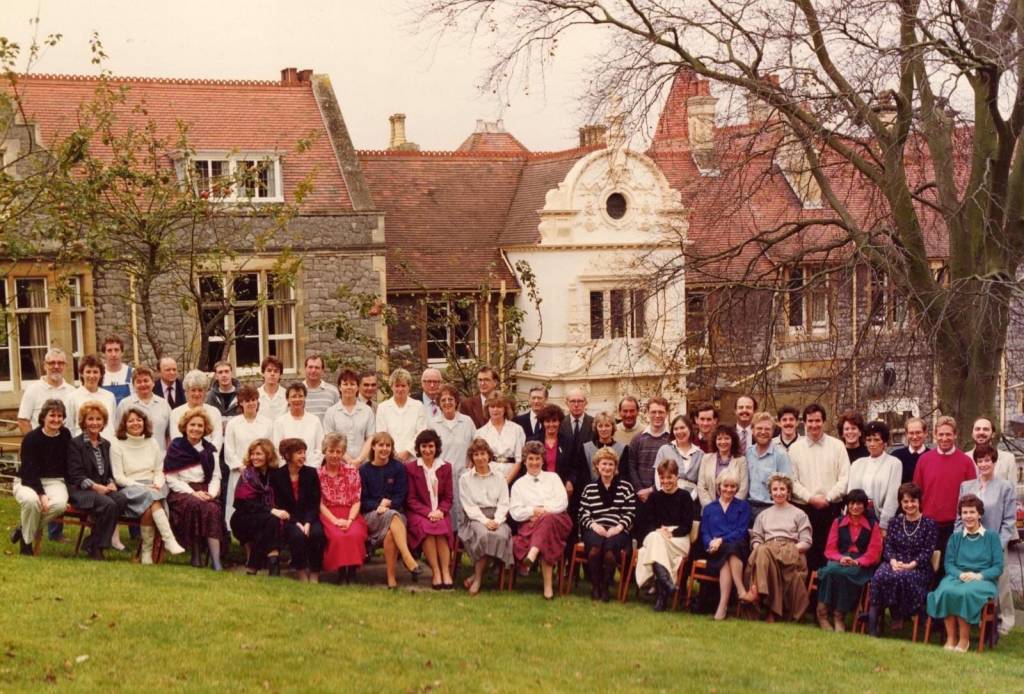 If you've worked or stayed at Broadway Lodge since then, you may recognise one person in this photo who still works here today – our Maintenance Manager Stuart, who began his working life at Broadway as a Kitchen Assistant. You can spot him in the back row, first on the left (he may not appreciate us for highlighting that!). Charma was working on the day the photo was taken but was busy in the Broadway bookshop at the time so was unable to include herself in the photo. No-one else in this photo works at Broadway Lodge anymore and some are sadly resting in peace now.
All of our clients and staff members are important to us and very much valued but we had a particularly exciting visit in this year. The late Diana, Princess of Wales, came to Broadway Lodge in May 1986 and brought her special touch. Apart from being a morale boost to clients and staff, the visit provided welcome press coverage and helped create national awareness of Broadway Lodge and the illness of addiction. You can watch an ITN news clip about the royal visit here.
Other events in 1986
Looking back, 1986 seemed to be an eventful year and not just for us. Here are some of the other events and subjects of stories in the news back then:
A reactor of the Chernobyl Nuclear Power Plant exploded which killed 31 people and released radioactive materials across much of Europe. It was one of the worst nuclear disasters in history caused by an experiment gone wrong. There are still abandoned exclusion zones around the area today as it remains one of the most polluted places in the world.
US space shuttle Challenger exploded 73 seconds after lift-off, killing all seven astronauts on board including a teacher who was selected and trained specially for the mission and was going to be the first teacher in space.
Widely known stage musical Phantom of the Opera debuted in London's West End.
Australian soap Neighbours was first aired.
The first issue of newspaper The Independent was printed.
The film Top Gun featuring Tom Cruise premiered.
Boxer Mike Tyson became the youngest heavyweight champion in history at 20 years old.
It's been interesting to look back at this year in the 80's and we hope to share more pieces of Broadway Lodge history again!